Past Participants Experience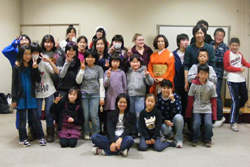 Sarah Sanford – Tauranga Girls High School
Attended 2009 Program
I am Sarah, I am 16 and from Papamoa. This is a little bit about my trip to Japan.
On the first night, we had a group meeting then it was dinner in Auckland and then we could go to our rooms and do whatever. At 6:30 we went to breakfast.
then had to get ready to leave to get the shuttle to the Airport where Stuart from Tauranga met us.
We checked in for the flight and then went through and waited to board
the plane. When we got on the plane and we had two meals, ice cream, and watched movies. We got off the plane at Narita Airport,
which was not as busy as we thought , and from this point, we were with Labo!!
The two Auzzie Interns; Stuart and Janet were waiting for us. We
then went to Shinjuku by bus and walked to dinner then to the New City Hotel. The next morning we went to the Labo
headquarters to meet our host families.
My host mother and Miho the daughter picked me up and we got the train
from Shinjuku Station (the busiest train station in the world) and walked to get to Tokyo tower, Then we went to a bus station and had to get a 2hour bus to Tochigi-Ken then a 10 minute drive to my host families house.
We had chicken and seafood obento for dinner and by the time we finished it was 8pm
(we had left labo at 11.30am).
The next day I went to school and made it onto the school website-my host family showed me over there(Sano Nihon UNIV Junior Highschool) and I
also went to the music club. We looked through the school telescope at Neptune and the moon.
The next day my host mother and I went shopping then at 3pm I went to school and went to the music break up. The day after we stayed at home and then that night, I met one of the cousins and her mother. Then the next day I went to karaoke with one of the friends, Miho and the grandfather took us.
Then the next day was getting ready for camp, we went to a Labo party meeting which was quite fun as we made bread and then went to an illumination for the emperors birthday,
we also had a Christmas cake at 8.05pm on Dec 24th for the NZ Christmas.
The following day we went to the mall and stayed at home, as we had a 4-day camp the next day and then I was told we had to go out again to another
Labo meeting which was fun.
The morning of the :Labo camp we got on the train at Sano station in my
host town and took the 1hr30min train to Takasaki station to get the bus to Kurohime Laboland Winter Camp 2009. It was awesome!…I
was in an English lodge as well as Jamie(the only boy from NZ). Over the 4 days
we managed to do high ropes, lodge activities, song birds,
international youth meetings and had an 11yr old stalker,. We had English session with the 3english lodges and
got to do the HAKA, ketchup song, cha cha slide and the ymca in the snow at
Kurohime camp.
After camp I went to Nikko national park and some cool shrines, I went
to Disneyland and I got to see Akina who was in NZ for 11 months last year and she came to my host's city. I managed to play Wii and shop and meet another 2
of my hosts cousins. All and all basically the best trip to Japan Ever.