Past Participants Experience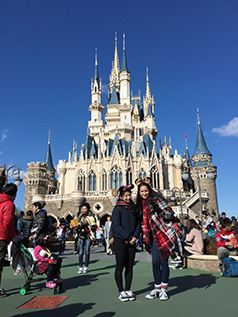 Sammy Aholima – Tauranga Girls College
Attended 2016 Program
I was sixteen, and had just finished my third year at high school. When I first decided to travel to Japan and convinced my mother to let me go, I was already extremely nervous to meet so many new people-I even thought about pulling out last minute, seeing how nervous I was. I don't travel often, and have never gone to a country with so many people in it.
When we all met our host families, I was so nervous, I had heard so many nice things about them over email but I was still nervous.
It turns out that I had absolutely NOTHING to worry about. They were all very nice, and extremely welcoming, and were very good to me in every way. They always made sure I was comfortable or that I could understand what they were saying. My host sisters were very eager to learn about my life in New Zealand, and I always felt included in the conversations that were held. We went to a lot of different places while I was in Japan; Shinjuku, Harajuku, Shibuya. We went to a million places in the first day, and it was honestly amazing seeing how different Japan was to New Zealand.
We went shopping, and went out to dinner to try Okonomiyaki, (which is now my favourite Japanese dish), and I even managed to stumble across a few of my favourite idols while I was there, (on accident, of course). There was so much that I wasn't expecting to do, yet I did so much in the span of three weeks.
On New Years, we went to Kamakura, and I was able to experience the Japanese way of celebrating it. It was really fun, and the traditional Japanese buildings were all so amazing to see. The food in Japan was amazing, and not once did it ever fail me.
On camp, at first, I was very hesitant to go, because I myself don't particularly like camps or a lot of people, nor do I like snow. I was very much dreading it, actually, but the first night in Kurohime was so much fun, and everyone in my lodge was so nice and welcoming. They all greeted me with cards and such, and introduced themselves. Some even spoke English, and always translated what I couldn't understand. Everything on camp was fun, my favourite part being meal time because it meant we could all sit down as a lodge and talk about our day and ourselves, and we could get to know each other better. It made me very sad to see everyone leaving once camp was over, and even though I hated snow, it was amazing how much there was. Write everything down, because you will not want to forget anything.
Even though it may seem scary, there is honestly nothing to worry about. I encourage anyone to take this trip if they're willing, because it was the best three weeks of my life. Dare I say it, but I barely missed my family in New Zealand, it was too much fun for me to have time to.
My best advice would definiely be to try out everything that's offered to you. You're only in Japan for 3 weeks, and if at the end you don't like it, then no problem. Most of the things I wasn't too keen on actually turned out to be my favourite things when the trip had ended. Don't be afraid to ask your host family for anything, EVER, because chances are, they are JUST as nervous for you to like them as you are for them to like you. If there is something you would like to do or see, do not hesitate to ask. The worst thing they could say is no.
Both my host family and friends were extremely welcoming, and going to Japan and making so many more friends has only made me love Japan more.
I encourage everyone to go, because your time there is the best that you'll have.
Sammy Aholima