Past Participants Experience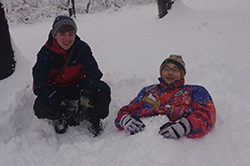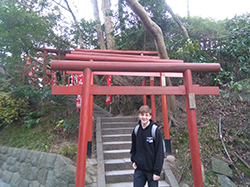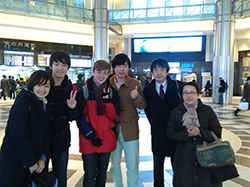 Marcus Williams – Western Heights High School
"Ladies and Gentlemen, this is your captain speaking. We will be landing at Narita in 10 minutes. Please return to your seats and fasten your seat-belts before we begin our descent."
I remember at that moment I had so many thoughts going on in my head. I'll never forget how excited I was. Two years before I took the Labo-Lets Homestay Japan Exchange Program, I hardly knew anything about Japan or spoke the language. But that all changed when I met my Japanese teacher who convinced me to take part in a program I had never come across before.
At 18 years old in Year 13, which is the highest age in the program. I knew it would be my last chance to experience Japanese culture and life while still in my youth. I also knew it was a fantastic opportunity to help myself become a better person and be more confident of taking care of myself. But after I took this trip, It would be some the greatest memories I would never forget! I learned and experienced so much that I probably couldn't even explain them all in person!
I stayed in Tokyo itself which is like a whole different world! Seeing so many lights and buildings that looked like skyscrapers filled me with so much excitement!
My stay was a little different from the others in our New Zealand group. Just before we arrived in Japan, a family member from my original host family became sick. Due to the host mother being unavailable for the first week of the homestay, Labo were able to quickly arrange another family to host for the first week while in Tokyo. This meant I had an opportunity to stay with two amazing host families!
Every step of this journey is well planned and you are guided through everything from the first night in Auckland to the flight and meeting your host family. We were a group of 12 and 1 teacher. We flew direct to Tokyo, and spent a night in the National Olympic Memorial Youth Centre, before meeting the host families there the next day. After our introduction meeting, we met our host mothers. I travelled by train with my host mother to the family's third floor apartment building in Setagaya district. My host family made me feel so welcome, I immediately felt at ease. I spent a day at one of my host brother's elementary school, where I showed his class my New Zealand Album. I also went to some of the Labo classes where my host brothers and other members of Labo would meet each week for discussions, games, singing and even dancing. With my older host brother I met many of his friends who were very excited meeting us and speaking in both English and Japanese. My host father was very generous for taking me to the FIFA Club World Cup Final of Kashima Antlers vs. Real Madrid!
I went to see many sights, shrines and famous districts around the city, including climbing to the top of Tokyo Tower and Tokyo Skytree! I loved going to see many districts like Asakusa, Shibuya and Shinjuku as they're so lively and have such colourful streets. I went the Kawaii Monster Café, The Ramen Museum, I even saw the huge budda statue of Daibutsu in Kamakura! The food is a big highlight in Japan, with modern ordering on a tablet and being delivered on a conveyor belt!
After transferring to my second host family, in the Fuchu District of Tokyo, I went with one of my host brothers on a 6 hour coach ride to a Labo Winter Camp at near Nagano, held at the base of the snowy Mt Kurohime. Everyone from the NZ Labo group went to this camp but we all stayed in separate lodges. Everyone in my lodge was very friendly and loved getting to know about myself and where I was from! I was the only foreigner to climb up Mt Kurohime which was truly an amazing experience. The camp was surrounded by snow, in Rotorua its very rare to see snow fall. Personally for me it was something very special to me as it was years since I last saw snow!
The Winter Camp was by far my most favorite memory of being in Japan.
Once back in Tokyo, I spent New Year's with my host family at a shrine to pray and leave a message for my hopes for the New Year.
Both host families made me feel so incredibly welcome and I immediately felt part of their family. I met grandparents, cousins and so many friendly people. The Japanese people are so caring and humble, but also so very interested in New Zealand and our lives here. I made up a booklet with lots of photos and information about my life in NZ and it was shown over and over again to the families, friends, teachers and extended families. I spoke Japanese most of the time, but there is usually someone in the family who speaks some English too. I was also given some lovely gifts and mementos of my time in Japan.
Each family has become very special to me, it was very sad and emotional to say goodbye, and we are still in touch, even on Facebook. I highly recommend the Labo trip, it is very organised and an amazing opportunity to practice your Japanese, and experience real family life in Japan. Don't think about it, just do it!!
Let's Homestay and Labo, Thank you so much for creating one of the greatest experiences of my life!