Past Participants Experience
Lania Adams – Otumoetai College, Tauranga
Attended 2007 Program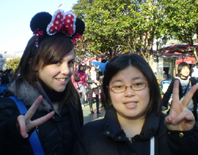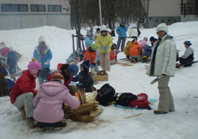 I couldn't believe it when I was told I was going Japan, you could of
knocked me over with a feather. I was amazed, this opportunity meant
everything to me and I was determined to make the most out of this
life-changing trip.
And that's exactly what I did. On the weeks leading up to the trip I got
more and more excited until the day came I couldn't believe that me, a
teenager as young as 13 was embarking on this huge journey all by
myself. I kept saying to everyone "Am I being Punked?"
I soon got to know all the other participants going, all exchanging a
laugh or two and talking about what we wanted to get out of this trip.
In no time we all became close friends relying on each other for support
through this time. Some of them are still really close friends. Our
chaperone Kimberlie was awesome, she helped us out with any problems
that may arise and taught us a lot about what to expect, as she had been
to Japan before. It didn't take much to get to know her (as she was my
Form 2 teacher). I thought being quite close to her helped me out a lot
when I wasn't to sure on things being the youngest going on the trip.
Tokyo was the biggest, most crowed place I had ever seen in my life, the
amount of people just walking around and biking was absolutely
breathtaking and that was only on my first day. Mt host family were the
most kind-hearted people I had ever met. The always made sure I was
comfortable and ok. Regularly asking me if I needed anything, I will
definitely go back one day and visit them, miss them terribly.
Everything was so different, sleeping so close to the floor, the heated
toilet seats, eating with chopsticks and most of all not being able to
understand much of what was going on. But I found it helped to smile and
nod, my host family did their best to translate but at the end of the
day I was just happy being with them [even if I didn't know what they
were saying!]
I loved shopping at Harajuki! My Labo Tutor took me out for a day to go
shopping just so we could get to know each other. Harajuki was
definitely one of my highlights [there are many] there were so many cool
styles there that you couldn't help being a tad jealous that they could
get away with wearing something that outrageous wear as if you wore it
in New Zealand you'd get looked at sideways. They didn't really seem to
mind the amount of tourists taking photos of them they had their own
style that they weren't about to change, which I know Ellie, Annie and I
all fell in love with.
New Years was the highlight of my trip. It was a chance for me to really
experience first hand Japanese culture. I had a traditional Japanese
meals which was so awesome cause some of the food I had never even heard
of before. I tasted some very unusual tasting foods and some not so bad
foods-bamboo was defiantly something I will always remember eating. It
was kinda like solid water but a bit saltier.
I got to go to a temple in Tokyo, It was the most amazing thing ever
seen in my life. If you thought I had big eyes then-which I do you
should of seen them when I walked into the temple. [I think there's a
photo somewhere..] I was a beautiful building that you can only properly
appreciate if you see it with your own two eyes, I will never forget it.
I got to throw 100 yen into this grate thing and make one wish. I felt
so silly standing in front of thousands of people with my hands together
and my eyes closed whispering to myself but I took the opportunity to
think about what I really wanted. And guess what my wish came true-it
really works…
Camp at Kurohime was so fun! It was really good to catch up with all the
other Austalian and New Zealand participants to talk fast English! The
weather was really cold and it was extremely snowy but we made the most
out of it. We built snowmen and cooked marshmallows over our own fires
and made ice cream.
All the children in my lodge were an awesome bunch of kids ages ranging
from 6-19 some tried their best to speak English I really appreciated
the way they made me feel welcome and MADE me join in with songbirds.
Once I warmed up to it I had a lot of fun, really it's all about having
a go and just forgetting about how dorky you look to have a laugh at
yourself.
Having a communal bath was a bit of a scary thing for me to experience
in Japan, it was just so different but in the end I had a go and really
found it quite relaxing. My lodge parents were really kind to me and
offered to wake me up in the morning about an hour earlier to have a
bath and get dressed with the other New Zealand participant who was in
my sister lodge. That was really thoughtful they really look out for you
at camp.
Japan was by far the greatest experience of my life and everything I
saw, did, touched, tasted, smelt and took in will be with me forever,
and one day I will go back to visit all my new friends and family which
I am looking forward to a lot.
So for all of you who are thinking about going stop thinking and do it!
Trust me when its over you'll thank me.
Lania Adams.