Past Participants Experience
Lisa Rolston – Marlborough Girls College
Attended 2008 Program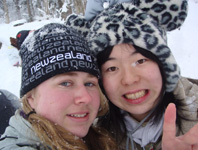 Me and My Host
Going to Japan on the Labo-Lets Homestay exchange was the most amazing experience of my life. I know that's in a
way to be expected, I mean, Japan for three weeks! And no parents!
Epic. But this particular trip has got to be the best NZ-Japan
exchange available. There were 4 exchanges to Japan that people from my
school went on, and there is little doubt in my mind that the Labo-Lets
Homestay one was by far the best option. Not that I'm biased or
anything…
There were 14 of us, plus our two chaperones, sourced
from Tauranga, Rotorua and Blenheim, which I think worked pretty well.
On the first day in Auckland us Blenheim people hung out in a pack, but
by the end of the trip we had all mixed and scrambled up and made
friends with those North Islanders as well.
Upon our arrival at
Narita Airport the most commonly heard phrase was "Oh my God, we're in
Japan!!" followed closely by "Check out the Japanese toilets!" We
crowded into these Japanese toilets armed with cameras. Within 10
minutes of being in the country one person who will remain anonymous
managed to press the panic button in the disabled toilets.
No truer words have been spoken than those said by Kimberlie, our
chaperone, in my video-clip interview: "Look out Japan, they're here…
We stayed a night in a posh-looking hotel in Shinjuku. The toilets here
had cool buttons too. These were experimented with.
After an
orientation at the hotel in Shinjuku, five special people (me included)
were taxied to Shinjuku station. We were special coz our host families
lived miles away and we had to catch trains to find them.
Three of us ended up in the same area. We became the Numata Buddies and
shared a lot of experiences together, like Labo parties, school and tea
ceremonies.
I knew I was going to get along great with my host
sister when we went to a massive supermarket and cruised the chocolate
snack aisle. "Chocorate, chocorate, chocorate," she said, sticking
jaw-dropping amounts of chocolate snacks into the basket.
We went to
school. I was sitting there in my desk before school, talking to my
host sister and feeling conspicuous in my mufti and my nationality, and
a girl walked in the door, took one look at me and jumped backwards
into a wall.
English was when I first encountered "The Question".
I was asked to introduce myself and my country, with the sensei
translating for the class when I let my English get too technical. Then
it was question time, and a girl down the back stuck her hand up and
asked "Do you have boyfriend?"
Yep, that's The Question.
We also got to clean the toilets after
school. Me being a visitor and all, I didn't have to clean the actual
toilets. They let me scrub a wet floor and send a whole lot of gross
down the drain.
We went shopping on Emperor's Birthday. That was awesome, it was me, my
host sister and 2 of her friends. We took purikura, played air hockey,
took more purikura and talked about boys. I didn't feel like the
foreigner, that was the best part.
I knew the Japanese didn't
celebrate Christmas so I expected to be a sad little homesick mess that
day. Hell no! My host sister got me up at 5am and we caught a bus to
Tokyo Disneyland with one of the Numata Buddies and her host sister.
Beats sitting round a lounge with a bunch of relatives eating too much
food, I can tell you.
Labo camp was amazing! It snowed on the first
day of activities and we built snowmen and other snow things. On the
second day was the Lets Get Together, which was us and a bunch of
Japanese kids greatly enthused to talk to us, play Kiwi games and give
us their name cards. Following this lovely NZ-Japanese bonding session,
in free time there was an NZ vs Japan snowball fight.
Of course. The Japanese won, because of their numbers, but we had
awesome infrastructure. We had walls and caves and tunnel things.
I can say one of the greatest moments of 2008 was charging through
knee-deep snow towards the Japanese front line with a handful of snow
yelling "KONNICHI WAAAAAA!!!"
On New Years Eve I went shopping with
my host sister and 2 more of her friends in a massive mall called
Keyami Walk. Woot.
We went to a shrine sometime after 11. We rang a little bell, threw 5
yen coins into a pit, shivered, stood next to the fire in need of
warmth, then went up to this bell tower thing. My host sister rang a
big gong, then my host brother (My host brother rang a big gong, my
host sister didn't ring him) and then I rang it. I worked out later I
hit that thing at exactly midnight. Happy New Year! GONGGG. My host
family took me to Tokyo for some sightseeing. We saw Tokyo Tower, the
Imperial Palace, Asakusa and Harajuku.
The end part of the trip was
also where this exchange shone above others. There was no sitting in
our hostel feeling sorry for ourselves after leaving our host families.
We took taxis to Harajuku (Harajuku!) and got into groups (size didn't
matter, we chose our own and stuffs) and were given 1500yen and 4
unsupervised hours in which to do whatever we wanted. At night. 5-9pm.
It was, as you can imagine, awesome.
The next day we talked a bit and
went to Meiji-Jingu shrine, then boarded our fat tall green bus and
went to Narita Airport. More free time was had at Narita, we went
through country-leaving procedures, and farewelled the country that had
become home to us all for three weeks.
Yep, that trip was amazing.