Past Participants Experience
Ellie Stone- Tauranga Girls High School
Attended 2007 Program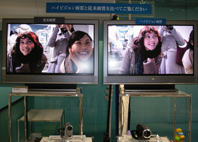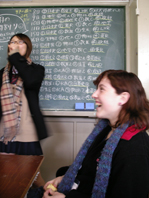 Japan has got to be the most amazing
experience of my life. I felt so scared and little on the day we
travelled up to Auckland, it just seemed like too big a journey for
little 15 year old me to undertake without my parents around.
I quickly learnt it wasn't. The people that went on the trip with me
were all just as nervous as I was, and they were all really cool
people. I'm so glad to have met them. Our chaperone was also a super
cool lady. If there is anything that makes you bond with strangers it's
going to a strange country with them. They don't stay strangers for
long.
Tokyo is so different to everything I know in New Zealand. So, the
first day I think I just walked around in a shocked daze, still trying
to convince myself that I was actually in Japan. My host family was
amazing; they adopted me quickly and within the first week I just
started called them Mum, Dad e.t.c.
Living with a Japanese family is probably what made this trip so
amazing for me. Not that Japan isn't cool anyway, it's awesome! But
getting to see it from a Japanese point of view, and truly getting to
see what it means to be Japanese is an experience I will never forget.
My host family was quite traditional with me; we went to watch some
Kabuki theatre in Ginza, which was really cool. I was lucky enough to
go around New Years so not only did I get to see the Kabuki show, I
also got to check out all the women wearing their kimono's! The Kabuki
is performed in very old style Japanese, so even though I couldn't even
try to understand a word of it, my host sisters weren't entirely sure
what was being said either so it didn't matter. The costumes and sets
were breathtaking enough.
We also went to Harajuku shopping. That was really fun! Some of the
things you see the Japanese girls wearing are outstanding! Their sense
of style is so unique that when you arrive home you begin to wonder why
everyone looks the same! The way they mix their culture with western
culture is beautiful; they can take fashion to a whole new level
because of the background they come from. Even if you don't like
shopping, Harajuku is a brilliant place to go for photo opportunities
too.
New Years. It's definitely an experience. I found it hard to accept
that we didn't celebrate Christmas there, but that's because their New
Years celebration really is huge! I got to spend the evening watching
the famous Japanese singers perform on the music shows, which is
another good way of getting to know the modern culture of Japan that
they don't teach you about in school.
At midnight we went to a temple and queued up to go hit a bell and
banish 108 evil things for the year. The bells sound can be heard in a
radius of up to 2 kilometers and hitting it made me feel really good.
Not in a 'YAY I whacked a bell!' way, but as if it really had banished
the evil things. It's a magical experience.
The next day we had to go to a shrine and pray for something, ((a safe
flight home!)) I'd been lucky enough to catch a show on shrine
etiquette in the days before New Years so I could follow the correct
procedure of clapping and bowing e.t.c. I also got a fortune, mildly
good. Apparently this years a bad one for me to get married in…
The shrines are beautiful; I think that's one of my favorite memories,
getting to see the traditional architecture of the shrines first hand.
On the trip we went to winter camp in Kurohime. Yes it's cold and snowy
there but it was such a good thing to see the other New Zealanders
again. That's possibly the happiest reunion I've ever been part of.
Winter camp is the best thing ever. All the Japanese in your lodges all
want to talk to you, and it doesn't matter how well they speak English,
it's still nice to see them trying so hard just to learn your name! I
made some awesome friends there. Some of them I'm still in contact with
now!
The communal bathing thing really isn't as bad as it sounds. Just do
it! I did, and I honestly nearly laughed at how big a deal I'd made it
seem when all the Japanese just do it because that's what's normal at
winter camp!
The songbirds at winter camp are really fun! If you just get into them
and try your best then the Japanese kids really love you for it, and
you'll feel a lot better than if you stand there thinking you're way
too cool.
Winter Camp has got to be some of the coolest memories I have of the
trip. It helped my Japanese so much and it made me even closer to my
host sister. I loved it so so so much. I even go to do the birdie dance
on the podium on the last night!
I tried so many new things whilst in Japan, things I never even dreamed
I'd ever do. But do I regret doing any of them? No. I discovered I like
some things that before I wouldn't have even thought about eating or
drinking. I took part in things I'd never done before. I saw things I'd
never dream I'd get to see. And more importantly, I became so close to
my host sister that she became like a new sister.
I went into this trip knowing it would be what I made it. I like to
think I made it the best I could. The memories I have from it I know
I'm going to cherish for the rest of my life.