Past Participants Experience
Kylie Gibson – Marlborough Girls College
Attended 2008 Program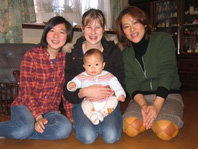 Dear Stuart
Thank you so much for organising the amazing trip to Japan! I had so much fun!!!!
My host family were really caring and kind and helped me understand a lot of Japanese culture! They took me to some amazing places like Tokyo Tower, Harajuku, Asakusa, Kamekura, Disneyland… Everywhere! I had so much fun with them!
On January 4th, my Host Sister, Risa and I met up with my friend Ayaka! We went to an amusement park for the whole day! I had so much fun!
Thank you for helping me to see Ayaka! When she left our house in NZ, I didn't know if I would ever get to see her again, but now I have! Thank you SO MUCH!
New Year was amazing! We went to Temples and Shrines and ate SO much food! (it was all delicious!)
I have been emailing my host family a lot now that I'm back in NZ! I miss them a lot!
Thanks again!!!!!
Kylie Gibson.