Past Participants Experience
Kimberley Cording – Teacher, Otumoetai Intermediate School
Chaperone 2007 Program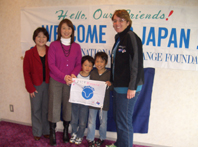 My hosts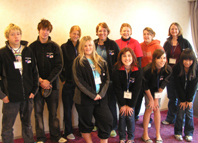 The 2007 NZ contingent


Meeting hosts in Tokyo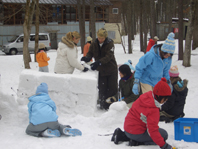 Building with snow at camp


Songbirds at Camp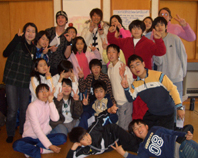 My lodge members

Camp orientation


We stood out!

As the chaperone for the trip, most people were telling me before I went, that I was mad to go with 7 teenagers. Boy, were they wrong. I was the lucky one. I got to take the best bunch of kids on the trip of a lifetime. Japan for 3 weeks was a magical time. We had a blast and made heaps of new friends.
 
Arriving at Narita Airport was almost dream like. Everyone was a little nervous but the energy was high. We were greeted by red shirts, Labo people, there to make us feel welcome really early on.
 
Probably the funniest part of the trip had to have been watching the group, including myself, get our clothes for the next day, out of our bags so that our big bags could be sent on to our host families. Great idea, but taking undies and those sort of things out of our bags in the middle of the airport, nothing priceless about that!
 
Onward to Tokyo and that feeling of amazement didn't go away. The excited talk all through the bus as we ate our first meal, obento style, was infectious. Japan's first introduction to our New Zealand group was full on, it had me making a few apologies to people on the bus, for the very loud talking. After a longer than normal bus ride, we arrived and walked to our hotel for the night. This was the very beginning of our Japanese experience.
 
The toilets became a hotly debated topic. Why so much water? What about all the buttons on the panel beside it? There were a few who tried them, not that they told us that early in the trip. Explaining a bidet to teenagers was priceless. Would have made a great ad! The heated seats would come later, so would the slippers for the toilet only.
 
Labo's organization would follow us for the duration of our stay. They were onto it for greeting and farewelling our families, assigning rooms and then getting us to our destinations. Sometimes, nothing short of a miracle, I actually was chaperoning teenagers after all. Fancy letting us all loose in Tokyo's Harajuku for 3 hours! And then being able to get them up in the morning, no need to continue.
 
Camp would have to be a highlight. The singing and dancing, Japanese style, took some getting used to and after much laughter and embarrassment, we all got right on in and had so much fun, that I had kids begging me to let them leave a meeting for talking English, so that they could return to their lodges, all in Japanese. Weird and still baffled by this!
 
It was a treat, drinking coffee and watching the group mixing and mingling with the Australians and the Japanese in camp. You could see the speed in which they were talking by the confused look on their host brother or sister's face. They were taking any opportunity to talk English and boy was it fast. Free time was great, time to be a kid and let their hair down.
 
The all out war on the last full day was quite a highlight. Snowballs fly really well in the hands of teenagers and I must admit to being just a little pleased that we do not have it here in kiwi land, as they smashed into the windows with a force that was just a little scary. For reserved Japanese ladies, drinking coffee and tea, not something they had ever seen before. The startled looks had me in gales of laughter, eventually making me want to go join in. They were having so much fun.
 
My highlight of the trip, well it would have to be sharing an experience with the coolest bunch of teenagers. They were in the middle of everything and could throw a mean snowball. They were very reluctant to come home and were very passionate about their host families. This demonstrated the depth of the group and the commitment they had made to this trip.
 
I believe that there is more of Japan New Zealanders need to explore. We have so much to offer them and them us. If you get the chance to do this exchange, then do it. I promise you that it will be the best Christmas and New Year you will ever have. Imagine meeting your second family, they are waiting for you and can't wait to share their way of life.
Kimberley.