Past Participants Experience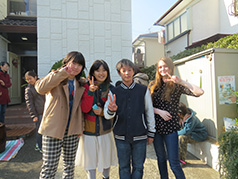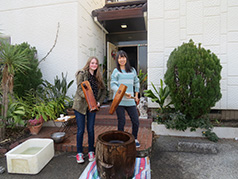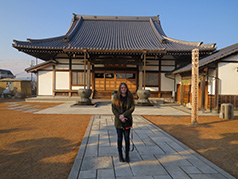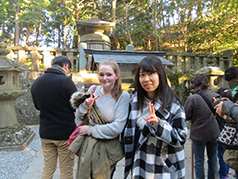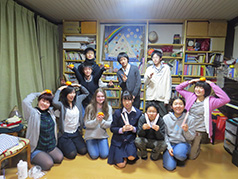 Jessie Keane – Villa Maria College
Attended 2014 Program
It was recommended that I went on this trip by my Japanese teacher. She wanted her students to have the opportunity to travel to Japan so that the language we had been learning since Year 9 could be 'put to the test' and used in real life. Considering the fact that my school hadn't offered class trips to Japan for a number of years, this was probably my only chance to take a trip to Japan.
At first, I was skeptical – I'm naturally a very shy person, and was afraid of the idea of travelling halfway across the world to an unfamiliar country with unfamiliar people speaking a language I still did not feel confident speaking. There was one point, just before I was about to send in my application, where I seriously thought about just not doing it. Now, looking back at my experiences that I had in Japan and all the wonderful people I met, I am so glad I sent in my application and went on this trip, because it was definitely worth it.
I can't really tell you about all the amazing things I experienced while in Japan because there were just so many, for me to list them would generate a novel. However, there were some things that were extra-special and stuck with me the most.
Firstly, there was my host family. Prior to meeting them I was extremely nervous, but this faded immediately when I met them. My host family were very kind, friendly and accommodating. They taught me a lot about Japanese culture and were interested in hearing about life in New Zealand and the kind of society we have here. I felt at home very quickly, and formed a strong bond with them, especially my host sister. It was so difficult to say goodbye at the end of my trip. Initially, I was worried about being with a host family as I thought there would be communication troubles, but there were never any problems. I would advise any people who go on this journey to never worry about staying with a host family, but to instead look forward to it, as it was honestly the best part of the whole experience for me.
Another highlight was the time with the Labo group. We would meet up a few times a week, and sing songs, talk, share meals together and learn about each other's culture. All of the Japanese children liked to try out their English with me, and I tried my best to speak some Japanese with them. They were all lovely and welcoming, and it was nice to mix with kids who were of all different ages. I miss them a lot! A great thing that happens through Labo is that we are able to go to the Labo Camp, where Labo groups from all different areas in Japan come to camp together and participate in fun activities. I went to Kurohime Camp, and enjoyed it so much. I was able to make friends with many of the Japanese kids in the lodge, and, once again, met a lovely group of people that I now miss a lot.
I was able to do many great activities with my host sister and family while in Japan. I visited my host sister's school – I found it really interesting how different it is from NZ schools. I was lucky enough to be able to go to karaoke 2 times, and had a lot of fun attempting to sing Japanese songs. I walked up a shrine on New Year's Day to make some wishes for the New Year. I took a trip into Tokyo with my host family and we went up the Sky Tree, where we could see a beautiful view of Tokyo at night time. I took many Purikura (photobooth photos) with my host sister and her friends. I was even lucky enough to go and see a Kis-my-Ft2 concert at Yokohama Arena, as my host sister is a huge fan. These are only some of the amazing experiences I had in Japan. I feel so incredibly lucky and grateful to be able to have lived them.
Three years ago, I never would have dreamed of doing anything like this. But I am so glad I did, and now I'll gladly try any new opportunities that come up in the future. I have gained so much confidence from this one trip and came away with countless memories that will stay with me forever. I would definitely encourage anyone to give this a go – it could be one of the greatest experiences of your lives! Thank you, Labo and Let's Homestay!
Jessie Keane